Looking for a unique idea to entertain your neighbors and guests? Why not have a killer-fun party like a Murder Mystery? Our professional entertainers perform many events all around the Southeast, providing expert mystery entertainment that is both engaging, hilarious, and challenging for each and every person. Choose from your favorite or create your own & we will make it happen. Entertainment, fun, food, spirits, and a mystery to solve - all in one party!
Choose your Murder Mystery Theme Party!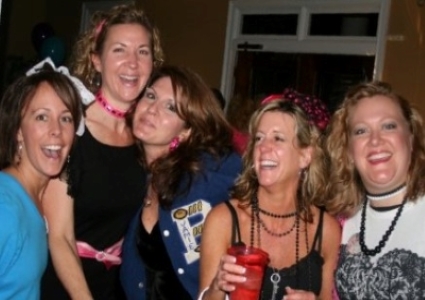 Totally 80's Murder :
Michael Poison is in town for his killer concert, but his fans may be looking for a refund after this twisted tour turns tragic with a murder and a mystery to solve. This totally awesome show could be super lame if no one can solve who was buggin' so we can all cool out and get the show started! Help the crowd and the detective figure out who ruined this totally tubular night, so everyone can, like, take a chill pill. Wear your most righteous '80's rock concert shirts, ripped jeans and jean jackets, or neon leggings with big hair and bangles. You will be all the rage at this rocking night of mystery.

Clue:
When your host is found dead, a private investigator needs your help finding the murderer, the weapon, and the location of the crime. Was it Professor Plum with the candlestick in the library? Or did Miss Scarlett use the revolver in the music room? Interrogate the suspects, collect the clues, and solve the mystery while enjoying a delicious buffet. Much like the game, your guests will be assigned the different characters and dress to coordinate. Join our cast of killers for an unforgettable experience as we present for your entertainment, the Clue Murder Mystery.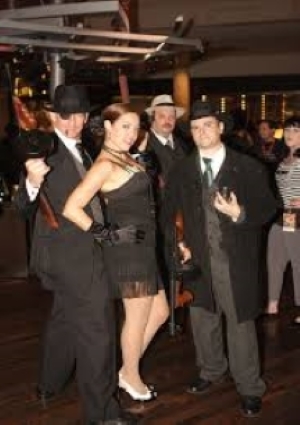 Mobster Mash:
The year is 1928 and there's been trouble on the Northside. Enter Big Joe Blowunosa, the indisputable kingpin on the Southside. He wanted to make peace among the North side mob families, and then unite the entire city. The struggle for the North side has taken on new meaning now that the peacemaker has been murdered. He came carrying an olive branch and somebody picked Blowunosa off. Attendees work in teams or families, electing their own don, and a consigliére to do all the negotiating with other families. Deals are made, fortunes are found and lost. This nigh''s attire is flapper dresses, zoot suits, feather boas and headbands, pinstriped suits and fedoras. If you aren't feeling that jive, you can dress as a private detective to help solve the crime, just don't frame the wrong guy in this interactive murderous mayhem.

Millionaires' Mascaraed :
Muted conversation, under the sound of fluffed feathers and soft silks was probably the last thing heard by the tragically and unexpectedly deceased victim at the Millionaires' Club Annual Masquerade Ball. With a mystery under each feathery facade, unmasking the killer will be the most difficult challenge of the night. It's up to you to determine which party-goer is the murderer and save the party by bringing this crime to justice. This high class night's attire is evening wear, ball gowns, Venetian masks, suits, and tuxes. Get ready for a glamorous evening of masks, mystery, intrigue, and murder.

What O'Brien Productions can offer:
For your event, we will provide the experienced and knowledgeable staff to help design your event with you, fully setup and take down the props and decor, and we will provide ALL the entertainers. Also, an event supervisor will stay on site to ensure that everything runs smoothly.
It is very simple, just provide our team of event designers with your annual events calendar, and let O'Brien Productions do the rest. A specific designer will be assigned to your neighborhood or Country Club, and together, you can create weekly, bi-weekly, monthly, seasonal, and annual events for your neighbors or customers. We can create adult themed casino nights by your community pool, a New Year's Eve event, Sip & Paint Classes, which are a tremendous success, and Golf, Tennis, and Corn Hole tournaments. We never forget about the little ones and offer dozens of children's activities to include Santa and Easter Bunny Visit's, Arts and Crafts activities, a Valentine's Day Father and Daughter Breakfast, and game nights. Our gaming activities can be geared towards children, adults, or a family theme. O'Brien Productions does it all...and we do it BETTER!
Request an Event Quote Today!

O'Brien Productions creates Murder Mysteries that make for highly memorable and extremely engaging parties. We are your one stop shop for all Country Club and H.O.A. activities, events, and celebrations. Our professional event designers will be happy to meet with you to develop and lay out a plan to create the perfect event for you and your guests. We can manage every detail for you and take the work out of your next event.

Call us to at 770-422-7200 or click the link below to complete a quick quote form and let us show you how O'Brien Productions can create events for your community that will be the talk of the neighborhood! O'Brien Productions has been offering H.O.A. & Country Club activities to our clients for over 3 decades.
Request A Quote