O'Brien Productions is ready to assist with your H.O.A. or Country Club's Holiday Pop-Up Shop or Craft Bizarre. You choose the venue and we can do the rest.
Similar to a small Trade Show, we can provide as much or as little as you prefer. Tables, in many shapes and sizes, as well as, different types of chairs are available for you to rent for your vendors or consultants. We also have a large variety of table linens, decor, centerpieces, and more to help vendors decorate their personal tables.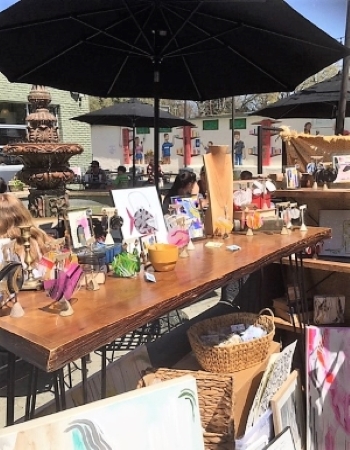 If you would like to have your event outdoors, we have an extensive catalog of heaters, generators, beautiful tents, fans (even some that mist), outdoor lighting, and much more. If needed, O'Brien Productions has props for vendors to use, like our 3 foot tall metal trees, which are perfect for hanging jewelry, hats, and other items your vendors choose to sell.

O'Brien Productions has over 30 years of experience of designing, implementing, setting up, and tearing down pop-up shops and/or craft bizarres. We also know how to design your space, allowing multiple vendors to participate.

There are many options available with designing your Craft Bizarre. By combining this shopping event with an arts and crafts activity like a Sip and Paint or Cocktail Making Class, your participants and guests numbers can possibly double. And O'Brien Productions has the knowledge and experience in creating and implementing multiple events at one venue, providing you with a great R.O.I.

A Craft Bizarre and Pop-Up Shop is extremely popular during the holidays, and vendors can book up quickly, so it is never too early to start the planning process and get this event information out to your neighbors and customers. If you prefer, we can arrange this event any time of the year.

Provide our team of event designers with your annual events calendar, and let O'Brien Productions do the rest. A specific designer will be assigned to your neighborhood or Country Club, and together, you can create weekly, bi-weekly, monthly, seasonal, and annual events for your neighbors or customers.
Request an Event Quote Today!

We can create adult themed casino nights by your community pool, a New Year's Eve event, Sip & Paint Classes, which are a tremendous success, and Golf, Tennis, and Corn Hole tournaments. We never forget about the little ones and offer dozens of children's activities to include Santa and Easter Bunny Visit's, Arts and Crafts activities, a Valentine's Day Father and Daughter Breakfast, and game nights. Our gaming activities can be geared towards children, adults, or a family theme.

Give O'Brien Productions a call at 770-422-7200 or click the link below to complete an online quote and let's get started planning your Craft Bizarre. O'Brien Productions does it all...and we do it BETTER!
Request A Quote