Easter Holiday Celebration
Hip-pity Hop on over to O'Brien Productions because EVERYBUNNY needs to meet the Easter Bunny and we have him on speed dial! With multiple Easter options available, O'Brien Productions can customize your holiday, ensuring your guests will have a beautiful day. Call O'Brien Productions and let us create the perfect Easter package for your H.O.A. or Country Club Event.


Easter Bunny & Seating Area:
Our decorated seating area is available along with the Easter Bunny and is perfect for picture time. This seating area is available to be set up indoors or out depending on weather and your venue.

Easter Bunny Visit:
If you are looking for the Easter Bunny, look no further, we have him on our team. Our energetic entertainers and talented artists, like the Easter Bunny, are dedicated to providing high quality designs with unique attributes, but each bring their individual fun-loving, enthusiastic personalities to your party. Our sweetly costumed Easter Bunny can make his way around your venue, visiting with each and every little guest, bringing smiles and laughter along the way.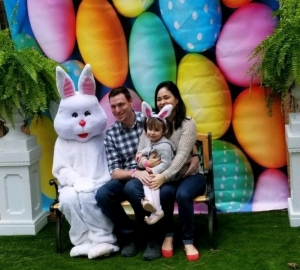 Bunnypalooza:
Not only does the Easter Bunny visit, but he also joins in on the Easter Egg Hunt. He will navigate through fields with your little guests, helping them to fill their baskets with beautifully colored eggs. If you prefer, we can supply plastic eggs filled with age appropriate treats. Along with the coordinating sitting area, egg hunt, and the Easter Bunny himself, we can bring bounce houses, face painting artists, spring crafts, refreshments, concessions and even more! Our DJ can entertain with music and games while parents and kids enjoy the excitement.

Staff:
For your event, we will provide the experienced and knowledgeable staff to help design your event with you, fully setup and take down the props and decor, and we will provide an event supervisor will stay on site to ensure that everything runs smoothly. O'Brien Productions is a full-service event production company and we can bring Entertainers, Food and Beverages, Decor, and Interactive Games. One call and you will be working with a creative and detail-oriented event planner to help create the perfect Easter Celebration! Our professional event designers will be happy to meet with you to develop and lay out a plan to create the perfect event for you and your guests.
Request an Event Quote Today!

Provide our team of event designers with your annual events calendar, and let O'Brien Productions do the rest. A specific designer will be assigned to your neighborhood or Country Club, and together, you can create weekly, bi-weekly, monthly, seasonal, and annual events for your neighbors or customers.

We can create adult themed casino nights by your community pool, a New Year's Eve event, Sip & Paint Classes, which are a tremendous success, and Golf, Tennis, and Corn Hole tournaments. We never forget about the little ones and offer dozens of children's activities to include Santa and Easter Bunny Visit's, Arts and Crafts activities, a Valentine's Day Father and Daughter Breakfast, and game nights. Our gaming activities can be geared towards children, adults, or a family theme.

We have produced over 10,000 events in the past 30 years throughout the Southeast. Give us a call at 770-422-7200 or click the link below to complete an online quote and let's get started planning your Easter Celebration. O'Brien Productions does it all...and we do it BETTER!
Request A Quote