Everything Red, White, & BOOM, so bring on the Fireworks because O'Brien Productions' 4th of July Celebration is packed full of outrageous EXCITEMENT!!!
How do you and your neighbors celebrate the 4th of July? Since summer is the season of food and fun, what's more fun than celebrating America's birthday? If you can imagine it, O'Brien Productions can build it. Our warehouse is filled with red, white, and blue sky dancers, inflatables, mechanical surf boards, linens and so much more.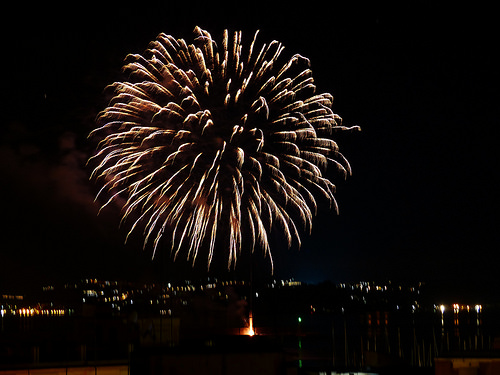 Vamp up the BBQ :
Although BBQ is a staple for 4th of July events, we like to add a lot of EXTRA! And the extras trending now are finger foods, but that doesn't mean the same 'ole deviled eggs. How about mouthwatering buttered garlic corn of the cob - straight from the grill? Or fresh fruit - splashed with mint? Sliders - either pulled pork or all beef? Whole pig roast - the decadent smell will attract all of your neighbors. Let us cater your celebration. Your options are limitless!

Fireworks :
With great business relationships around the entire Southeast, we can organize and customize the fireworks to meet your crowd's expectation.

Entertainment & All the Extras :
Face painters, jugglers, or caricature artists are always a great addition to any celebration. We can bring yard and carnival games, decor, bounce houses, obstacle courses, rock climbing walls, concessions, and more interactives, to your summer party. So, let us take your event from elementary and basic to fiery and friendly. Make your guests feel comfortable, relaxed, and taken care of with our exciting 4th of July Celebration!
One thing O'Brien Productions loves is a good party, so let us bring you a 4th of July to remember. Our experienced event designers will be happy to meet with you to develop and lay out a plan to create the perfect event. We can manage every detail for your 4th of July Celebration!
Request an Event Quote Today!

Provide our team of event designers with your annual events calendar, and let O'Brien Productions do the rest. A specific designer will be assigned to your neighborhood or Country Club, and together, you can create weekly, bi-weekly, monthly, seasonal, and annual events for your neighbors or customers.

We can create a 4th of July Celebration, New Year's Eve party, Sip & Paint Classes, Golf, Tennis, and Corn Hole tournaments. We never forget about the little ones and offer dozens of children's activities to include Santa and Easter Bunny Visit's, Arts and Crafts activities, Noon New Year's Party, and game nights.

We have produced over 10,000 events in the past 30 years throughout the Southeast. Give us a call at 770-422-7200 or click the link below to complete an online quote and let's get started planning your 4th of July Celebration. O'Brien Productions does it all...and we do it BETTER!
Request A Quote