Country & Western Theme Party
Howdy, Partners...Welcome to the New Frontier! Y'all will love going to the down home, friendliest party for all of you cowboys and cowgirls! Decked out in our jeans and boots, we are heading down to the ranch. And don't forget your cowboy hat!
Entrance & Setting:
Lined with a split rail fencing, you will be greeted at the archway of the corral with a friendly Westerner happy to make your acquaintance. With a tip of their hat, and a great big smile, they welcome you to the ranch. As you mosey around, keep a close eye out...you never know who you might run into. Is that Wyatt Earp over there???

Catering:
Cowboys and girls can definitely workup an appetite. Get those boots in motion, and head on over to the Chili Wagon. The ranch cook, I'm sure, has made up a delicious, homemade meal, perfect for you and your guests. Get into the chow line and fill up 'yer bellies - there's a whole kit and caboodle of tasty food to satisfy everyone on the ranch.

Bar Area:
Now, let's head on over to that old saloon. There's no shortage of fun to be had here. Trixie, the saloon Madame can greet you and give you a tour. Of course, there's a bar! (I think the whiskey barrels gave it away..) Grab a cold one, and take it all in.
Decor:
Everywhere ya look, we will capture all those decorations. You'll be surrounded by lovely, thoughtful elements that transport you into a country and western saloon and corral. With details including greenery, accent lighting, hay bales, the barn, the saloon backdrop, the whiskey barrels, the costumed characters and entertainers, and all the stations throughout the corral setup to complete the look. The red barn helps ya 'memeber that you are not in the big city no more. The architecture, saddles, wagon wheels, the horse, the silo, the lassos, the plow...dang, especially the outhouse is a huge reminder you are smack dab in the middle of a cowboy ranch. You can even see bags of feed for the animals, along with bales of hay located around the grounds.

Dance Floor:
Where should we start? The dance floor? Let's get to bootscootin'! If you're unsure about your country dancing skills, the line dancers can show you how. Or, if you're too shy to get out there, you can sit back and watch the square dancers perform.

Saloon & Games:
Perhaps games are more you're style. Head on over to the card table and try your hand at some Texas Hold 'em. You could also try out the roulette table or maybe blackjack is more your style. Or, how about the shooting gallery? Take your best shot and see if you can hit the targets, just like a real cowboy. There's also a cow milking game! There are more options than you can shake a stick at...these country boys and girls sure know how to have a good time!
Photography Area:
No matter what you decide to do, it will be a party to remember - and you'll definitely want to get some pictures to remember this shindig. You and your friends can stand in front of the western photo fronts, the 3D bar, or with any of the entertainers and capture the memories of this celebration. Who knows, Mae West or John Wayne may show up and want to join in your group photos! No matter where you decide to take have your pictures taken, you can't go wrong. If ya like, we can wrangle up everythin' ya'll will need for a selfie-station, with all the props every cowboy and cowgirl would enjoy like western hats, sherif's badges, toy guns, and even some chaps if ya like! We even have a life-size horse that likes to pose in front of that ole camera.

Entertainment:
In fact, there's no shortage of entertainment options. From bluegrass bands, singers, whip entertainers, rodeo roper, whip exhibition, saloon showgirls, a banjo player, a cowboy storyteller, and a can can show...you're sure to be entertained! There's even a medicine man magic show! Maybe you want to test your cowboy skills. How about riding the mechanical bull? A friendly competition among your friends or coworkers to see who can hang on the longest - it looks so easy, right??? Hold on for the ride of your life! You'll definitely have fun, even if you do happen to get bucked off! Don't want to get on the bull? How about ropin' a calf like you are a ranch hand? There's nothing wrong with a contest with your friends of grabbin' a lasso and trying to rope in a calf (it's not always as easy as it looks!) but it's definitely something you want to try!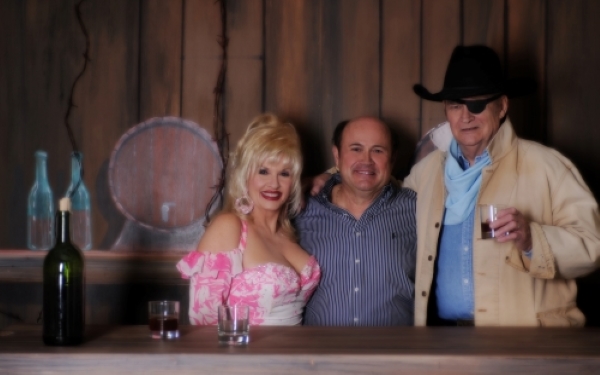 Themed Personality Options Available:
- Mae West
- Wyatt Earp
- Dolly Pardon
- John Wayne
- Saloon Madame


Entertainment Options Available:
- Saloon
- Roper Calf
- Piano Player
- Fiddler Player
- Can Can Show
- Mechanical Bull
- Cowboy Stilt Walker
- Rope Demonstration
- Medicine Magic Show
- Line Dancing Instruction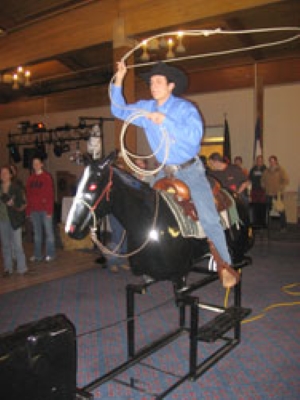 Request an Event Quote Today!

O'Brien Productions and our professional event designers will be happy to meet with you to develop a plan to create the perfect Country & Western event for you and your guests. With over 30 years of experience in the event party planning business, we have produced over 10,000 events for clients of all sizes. Nothing is too big or too small! We can manage every detail and we can work hard so you won't have to.

Call us at 770-422-7200 today or click the link below to request a quick quote and let us show you how we can create an unforgettable Country and Western Theme Party for every guest in attendance!


Request A Quote