Welcome to New Orleans! Let the Good Times Roll with an interactive Mari Gras Theme Party. Gather your friends and enjoy an evening that excites the senses. Bold colors, flavorful food, catchy music and fun awaits.

O'Brien Productions is your meeting and party planning resource. We take the work out of having fun by planning, budgeting and organizing your special occasion. As full-service event specialists, we manage every detail. O'Brien Productions takes one stop shopping to a whole new level. We are proud of our reputation in the community and continue to grow year after year. Our sales staff makes sure to incorporate our clients' visions and ideas when designing their events - creating a unique and personalized experience for each client and their guests.
Staff:
O'Brien Productions' staff can make Mardi Gras come alive at your event. A Float Attendant will mingle and greet guests and pass out beads and feather masks for all to don. O'Brien Productions will work with you to create a design plan for your event. We will also provide the professional entertainment, handle all setup and tear-down, and also have an event supervisor on site to ensure that your party runs smoothly. We have only experienced and trained staff, which means your next event will be a stress-free celebration for you and all of your guests.

Entrance:
We have a variety of entrance styles to create vivid images of "The Big Easy". Props of Jesters, a King and Queen, Lamp Posts, Park Benches, and Over Sized Masks set the mood of New Orleans, Bourbon Street and Jackson Park.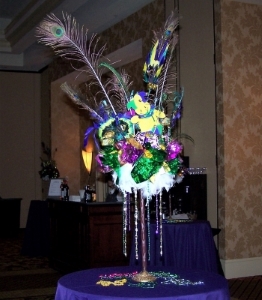 Entertainment:
No Mardi Gras Party would be complete without a variety of fun street entertainers! From Sleight of Hand Illusionist to Stilt Walkers, we hire the most talented professional performers. Why not hire live musicians, like our Jazz Band or Saxophone player?

~Stilt Walkers
~Jazz Bands
~Jugglers
~Uni-cyclists
~Face Painters
~Henna Tattoo Artist
~Fortune Tellers
~Dixie Land Bands
~Caricature Artists
These Customers Trust US, You Can, Too!



Request an Event Quote Today!

O'Brien Productions and our skilled team of event designers will be happy to meet with you to develop and layout a plan to create the perfect themed event. With over 30 years of experience in the event party planning business, we have produced over 10,000 events for clients of all sizes. We can manage every detail for you and take the work out of your celebration.

Call us to at 770-422-7200 or click the link below to request a quick quote and let us show you how easy it is to organize a memorable Mardi Gras Themed Party for your guests, customers, and/or employees. Let O'Brien Productions show you how to really throw a themed party!


Request A Quote