Roll out the red carpet for you and your guests for your next big event with a Hollywood theme party! Celebrate a corporate event, company party, or school prom in high class style. Bring a classic Hollywood look to any event and let your guests get the V.I.P. treatment.

Setting & Decor:
Your guests will enter the venue through velvet ropes and strut on the red carpet like they are smiling for the paparazzi. The space will be filled with gold and red accents along with formal tablecloths, napkins, and chair covers. A classy backdrop can be provided to make your guests feel like they are right in front on the Hollywood sign. O'Brien Productions can arrange for items to have a logo on them, and we can even have a special item for a giveaway.

Around the Bar:
We can provide a drink station for your venue if there isn't one available, or we will decorate the existing bar with luxurious red and gold accents. We will provide you with a bartender to serve you and your guests drinks and we can arrange for specialty drinkware We can even help you create a signature cocktail for the special event.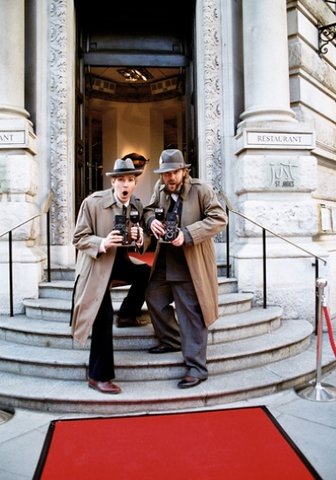 Catering:
We have a variety of meal options for any budget. Once drink and food choices have been finalized, O'Brien Productions will handle all the details to make sure that your meal is ready for you and your guests.

Entertainment:
We can supply your party with a DJ that will play popular dance music and today's top hits. He will invite guest to participate and give any party announcements. A Professional Band can be provided for live entertainment and allow your guests to enjoy a live musical performance. The band can play anything from classical ballads to modern jazz. Hollywood is recognized with Oscars, and we can arrange for you to have your own. Have small trophies given out to recognize employees, crown a prom king and queen, or have a special person celebrated for the occasion. At the entrance of your venue, faux paparazzi can take pictures of your guests as they enter, bringing a full circle celebrity feel to your event.

Photography Area:
Having a photo booth is a great way to make your guest feel like they are at an award show. Guests can pose in front of a backdrop of red curtains and between two life size Oscar statues. You can create a classic 4 photo print or use a digital photo booth which creates larger prints for you and your guests. Paparazzi can also take pictures and we can create a custom one-of-a-kind Instagram worthy selfie-station, draped with an on-theme backdrop and surrounded by balloons and/or props. If you can imagine it, we can create it!

Staff:
O'Brien Productions will work with you to create a design plan for your event. We will also provide the professional entertainment, handle all setup and tear-down, and also have an event supervisor on site to ensure that your party runs smoothly. We have only experienced and trained staff, which means your next event will be a stress-free celebration for you and all of your guests.

Having a Hollywood Theme Party is a unique and classy way to celebrate any special occasion. With O'Brien Productions helping you every step of the way, your event is sure to be a night to remember. Let us handle all the details so you and your guests can relax and enjoy the A-list celebrity treatment.

Request an Event Quote Today!

O'Brien Productions and our skilled team of event designers will be happy to meet with you to develop and layout a plan to create the perfect themed event. With over 30 years of experience in the event party planning business, we have produced over 10,000 events for clients of all sizes. We can manage every detail for you and take the work out of your celebration.

Call us to at 770-422-7200 or click the link below to request a quick quote and let us show you how easy it is to organize a memorable Hollywood Themed Party for your guests, customers, and/or employees.
Request A Quote