Welcome to Bugsy's place. The gang's all here and ready to celebrate - Bugsy Malone and his girlfriend Tricksey are at the door. (This could be your Boss, Head of Dept., Guest of Honor or a flapper you have hired) Muscles, Malone's body guard, may pat you down to make sure you aren't packing. Malone doesn't want any trouble tonight. He and his wife are celebrating their third anniversary and he wants everyone to celebrate with him.
De'cor: The party takes place in a back alley so the police won't bother them. Your guests will enter through a "Speakeasy" complete with back alley setting lamp posts, park benches, and a door with a peep-hole. Make sure you know the password or you won't be attending this grand affair.

Sit down and relax at our elegant celebration. You know Malone only accepts the best and expects the best of his "associates." Tables dressed with beautiful linens are accented white plumed feather centerpieces. The lighted vases stand 32" tall and feature between 30-40 feathers creating an opulent look. White pearls at the base compliment the design.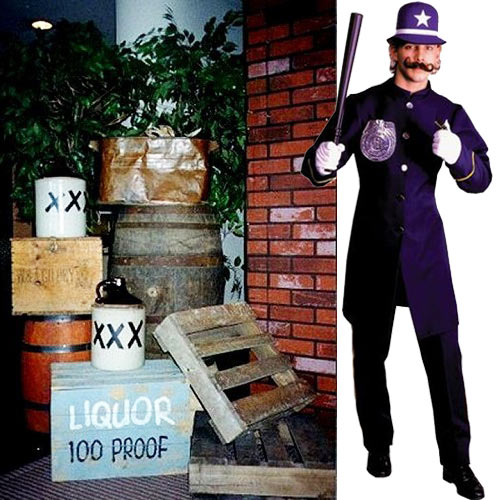 Around the Bar: We will highlight the bar area as the bootleggers bring in the stash. Crates of whiskey, whiskey barrels, and lamp posts will be placed on either side of the bar to help set the theme.

Jazz Band: Everyone can take a twirl on the dance floor doing the Charleston. A flapper dance instructor will lead your group in all the Roaring "20" dance steps.

Cigar Girls: can walk around and pass out chocolate cigars and prize tickets.

Flapper Show: Additional entertainment can always help set the mood. A 20 minute "flapper song and dance show" is sure to be a hit for everyone. They will invite guests up for instruction.

Disc Jockey: One focal point of your evening will be the DJ. This interactive and fun individual will keep your party jamming. He spins corporate friendly dance music and will keep everyone involved with the casino activities. His interactive games allow guests the opportunity to "win" fun money! He will also assist with announcements and the raffle at the end of the event.

Casino: No speakeasy would be complete without the "backroom" casino. Your guests can experience the fun of back alley gambling; craps, roulette, blackjack, wheel of fortunes, and poker are just a few of the tables you may choose.

Keystone Cops: This barbershop quartet is great to "raid" your place and entertain guests with a song.
Request an Event Quote Today!

O'Brien Productions and our experienced event designers will be happy to meet with you to develop and lay out a plan to create a turnkey event. We can manage every detail for you and take the work out of your next event. Click the link below to request a quote or call us at 770-422-7200 and let us show you how we can create a Roaring 1920's themed event for you and your guests.
Product Link